Maggie Gee's memoir is part family history, part celebration of the wonder and marvels that having a human body allow and part cautionary tale about the perils of the publishing world, with Gee presenting each part of her life story candidly. The warmth of her prose and genuine affection she feels for those who have had greatest impact on her life create a sense of intimacy between her and the reader, an intimacy within which she is happen to unflinchingly reveal the darker corners of her life. Which is not to say this is a dark book. Like any life, Gee's is dotted with dark moments, but it is the light of her affection for her husband, daughter, family and friends that shines through.
As a writer on the road to publication I found the final third of the book particularly engaging as Gee recounts how she very nearly disappeared from the literary landscape in the nineties. Readers of her later works, The Ice People, The White Family, The Flood, My Cleaner and My Driver will agree that this would have been a great loss. The White Family, Gee's 2002 Orange Prize shortlisted novel about a family who's casually racist attitudes, inherited from the domineering father, have tragic repercussions is easily one of my top five favourite novels, so I was surprised to learn that on her originally completing the novel back in the mid-to-late nineties the books was rejected by pretty much every publisher then going. Looking at the quotes on the cover of the edition I have on my shelf of favourite novels, it is incredible to me that anyone could turn down what is surely one of the most important British novels published in the last decade: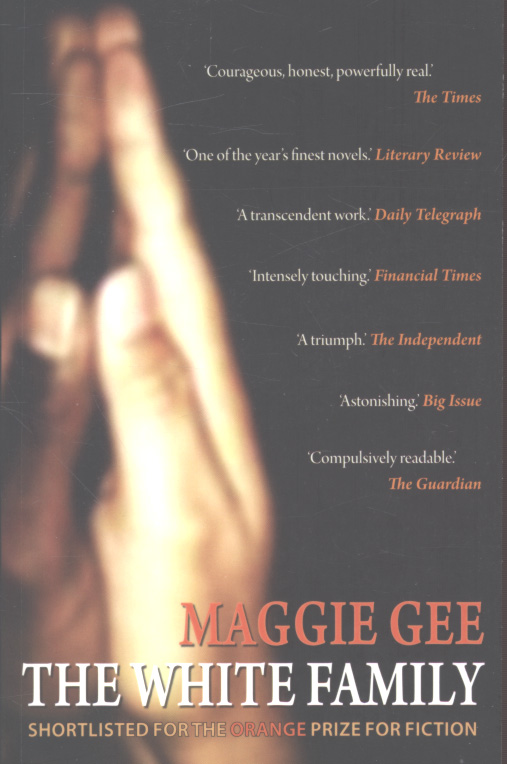 The book is full of advice for young/emerging writers, Gee examining the many qualities and skills important to achieve success in the literary world, knowledge hard won through the experience of her 'wilderness' years. My favourite piece of advice is aimed at readers as well as writers:
If you want to know where the best writers are, you can't tell by reading the literary pages, or going to the big bookshops, or looking at prize lists. You must read for yourself, and think for yourself, or listen to voices you know and trust.
On that note, I leave those of you who trust my voice as a reviewer with this. My Animal Life provides a fascinating insight into the life and writing of one of Britain's best authors. Reading it is like making a new friend, one with whom you have shared the highs and lows life throws at you and emerged, after the elegiac and consoling closing pages, smiling. I urge you to read it.
While you're at it, read The White Family. It's even better than the cover quotes suggest.